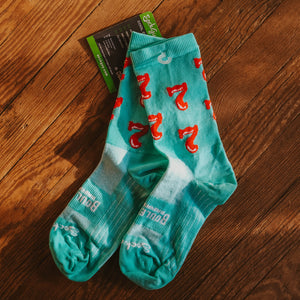 A word from our vendor --
SockGuy has been making the most comfortable socks you'll ever wear since 1996. Based in Carlsbad, CA, we are avid cyclists, runners, hikers and weekend warriors who have experience as expert level racers, sport enthusiasts, beer aficionados and industry professionals. We are crazy-passionate about socks – we know yarn, knitting and sock design like nobody else in the industry. 
Our socks are made right here in the USA – no outsourcing, no cutting corners – just good old-fashioned hard work to make sure your feet don't suffer even when you're pushing your body to the limit. Our socks feature superior comfort, cool designs, and exceptional durability. SockGuy has hundreds of original sock designs sold in thousands of retail locations across the U.S.A. and around the world. 
All of our socks feature our Stretch-to-Fit ™ sizing system and our exclusive Easy-Fit ™ cuff for a perfect fit every time on any foot.